australia
cinema
box office
new releases
recent releases
future releases
releases by month
video
top ten
new releases
recent releases
future releases
releases by month
out this week
in focus
in the news
from the editor
usa
cinema
box office
new releases
recent releases
future releases
releases by month
video
top ten
new releases
recent releases
future releases
releases by month
about Movies of Oz
want to contribute?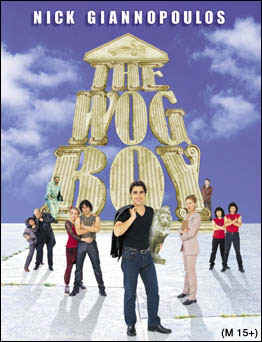 The Wog Boy
Stars: Nick Giannopoulos, Lucy Bell, Vince Colosmino
Director: Aleksi Vellis
Duration: 90 minutes
Steve (Nick Giannopoulos) is a dole collecting, Greek larrikan who is involved in a minor car accident with the Minister of Employment. After he sends the minister the repair bill for his beloved '69 Valiant, Steve finds himself the victim of a smear campaign dubbing him "Australia's biggest dole bludger". Needing to save his reputation, Steve sets out to clear his name.
AVAILABLE ON VIDEO NOW
Reviews: There are 0 reviews for this movie
Do you wish to add a review for this movie?