australia
cinema
box office
new releases
recent releases
future releases
releases by month
video
top ten
new releases
recent releases
future releases
releases by month
out this week
in focus
in the news
from the editor
usa
cinema
box office
new releases
recent releases
future releases
releases by month
video
top ten
new releases
recent releases
future releases
releases by month
about Movies of Oz
want to contribute?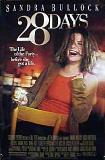 28 Days
Stars: Sandra Bullock, Steve Buscemi
Director: Betty Thomas
Duration: 103 minutes
A newspaper reporter is sent to a rehabilitation center after she is involved in a drink-driving accident. Whilst there she befriends other patients.
IN CINEMAS NOW
Reviews: There are 0 reviews for this movie
Do you wish to add a review for this movie?
PREVIEW THOUGHTS: Sandra Bullock stars as a reporter who is sent to a rehabilitation centre after being involved in a drink-driving accident. Written by Susannah Grant (who also wrote the recent Julia Roberts' blockbuster, Erin Brockovich), 28 Days also sees the odd casting of Steve Buscemi (better known as regular in Adam Sandler movies) in a dramatic role. The previews suggest that he adjusts quite well (although you can't tell much from previews) and this movie should find its fair share of viewers. Director Betty Thomas has shown that she can make quite funny films (Howard Stern's Private Parts, The Brady Bunch Movie) and it will be interesting to see how "serious" this film is.