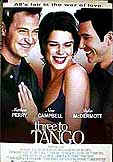 Three to Tango
Stars: Neve Campbell, Matthew Perry, Dylan McDermott
Director: Damon Santostefano
Duration: 98 minutes
An architect is asked by one of his clients to stay with the client's mistress whilst he is out of town. The architect soon finds himself falling in love with the mistress.
AVAILABLE ON VIDEO NOW
Reviews: There are 0 reviews for this movie
Do you wish to add a review for this movie?