australia
cinema
box office
new releases
recent releases
future releases
releases by month
video
top ten
new releases
recent releases
future releases
releases by month
out this week
in focus
in the news
from the editor
usa
cinema
box office
new releases
recent releases
future releases
releases by month
video
top ten
new releases
recent releases
future releases
releases by month
about Movies of Oz
want to contribute?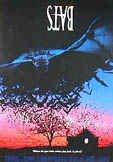 Bats
Stars: Lou Diamond Philips, Bob Gunton, Carlos Jacott
Director: Louis Morneau
Duration: 99 minutes
A zoologist and a sherriff team up when a group of genetically enginneered bats start attacking people.
IN CINEMAS NOW
Reviews: There are 0 reviews for this movie
Do you wish to add a review for this movie?
PREVIEW THOUGHTS:
A B-grade horror movie that showed little promise until the previews hit our television screens last week. Starring Lou Diamond Phillips, still remembered by most for his role as the ill-fated rockstar Richie Valens in La Bamba, Bats storyline is hardly anything to get excited about (a group of genetically engineered bats are let loose in a small country town and it is left to the local sheriff and a zoologist to save the day). But the preview showed promise and the bats looked incredibly life-like, so maybe this film will not be the flop that many are predicting. It is no Oscar winner, but Bats does appear to be solid entertainment. Still, it may be better to wait until it reaches video stores.