australia
cinema
box office
new releases
recent releases
future releases
releases by month
video
top ten
new releases
recent releases
future releases
releases by month
out this week
in focus
in the news
from the editor
usa
cinema
box office
new releases
recent releases
future releases
releases by month
video
top ten
new releases
recent releases
future releases
releases by month
about Movies of Oz
want to contribute?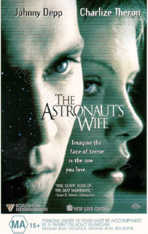 The Astronaut's Wife
Stars: Charlize Theron, Johnny Depp, Joe Morton
Director: Rand Ravich
Duration: 109 minutes
Astronaut Spencer Armacost (Johnny Depp) returns to earth after a mission in which he lost contact with earth for two minutes. Upon return, Spencer's unusual behaviour raises the suspicion of his wife (Charlize Theron) who believes that the man that has returned is not her husband.
AVAILABLE ON VIDEO NOW
Reviews: There are 0 reviews for this movie
Do you wish to submit a review of this movie?