australia
cinema
box office
new releases
recent releases
future releases
releases by month
video
top ten
new releases
recent releases
future releases
releases by month
out this week
in focus
in the news
from the editor
usa
cinema
box office
new releases
recent releases
future releases
releases by month
video
top ten
new releases
recent releases
future releases
releases by month
about Movies of Oz
want to contribute?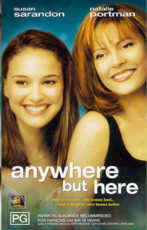 Anywhere But Here
Stars: Susan Sarandon, Natalie Portman, Shawn Hatosy
Director: Wayne Wang
Duration: 114 minutes
A mother and her daughter try to escape their claustrophobic, small town existence by moving to Beverly Hills. However, mother and daughter do not always see eye to eye.
AVAILABLE ON VIDEO NOW
Reviews: There are 0 reviews for this movie