australia
cinema
box office
new releases
recent releases
future releases
releases by month
video
top ten
new releases
recent releases
future releases
releases by month
out this week
in focus
in the news
from the editor
usa
cinema
box office
new releases
recent releases
future releases
releases by month
video
top ten
new releases
recent releases
future releases
releases by month
about Movies of Oz
want to contribute?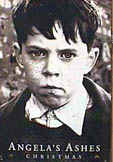 Angela's Ashes
Stars: Emily Watson, Robert Carlyle, Joe Breen
Director: Alan Parker
Duration: 145 minutes
Set in Limerick, Ireland, this is a coming of age tale of 5 year old Frank and his siblings. The children are raised in poverty by their parents Angela and Malchi who, through his chronic unemployment and alcoholism, is partly responsible for the family's plight.
IN CINEMAS NOW
Reviews: There are 0 reviews for this movie
Do you wish to add a review for this movie?
PREVIEW THOUGHTS: Definitely not the film to go and see if you are feeling a little depressed. This coming of age story is set in Ireland and follows the life of five-year old Frank and his siblings as they are raised in poverty by their caring mother and their alcoholic, but much loved, father. The movie is wonderfully shot and was talked about for Oscar nominations this year. At 145 minutes, it is a long movie and the subject matter might be a bit much for some. But the movie is reported to be filled with wonderful performances, most notably from Emily Watson who plays the mother "Angela" and Robert Carlyle as the father, "Malchi". Whilst the subject matter is confronting, this should not stop people from checking out this film which shapes as an ultimately uplifting tale of survival against the odds.