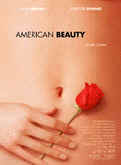 American Beauty
Stars: Kevin Spacey, Annette Bening
Director: Sam Mendes
Duration: 118 minutes
A man in the middle of a mid-life crisis, decides to re-invent himself to be more like he was as a teenager. All the while his family is falling apart.
AVAILABLE ON VIDEO AUGUST 16
Reviews: There are 0 reviews for this movie
Do you wish to add a review for this movie?