australia
cinema
box office
new releases
recent releases
future releases
releases by month
video
top ten
new releases
recent releases
future releases
releases by month
out this week
in focus
in the news
from the editor
usa
cinema
box office
new releases
recent releases
future releases
releases by month
video
top ten
new releases
recent releases
future releases
releases by month
about Movies of Oz
want to contribute?
| | | |
| --- | --- | --- |
| | SCROLL DOWN | |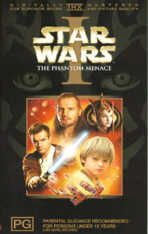 Star Wars Episode 1:
The Phantom Menace
Stars: Liam Neeson, Ewan McGregor, Natalie Portman, Jake Lloyd
Director: George Lucas
Duration: 136 minutes
When the peaceful planet of Naboo is threatened with invasion by the corrupt members of the federation, Queen Amidala (Natalie Portman) enlists apprentice Jedi Knight , Obi-Wan Kenobi (Ewan McGregor) and his master, Qui-Gon Jinn (Liam Neeson), to help restore order. Along the way they encounter a gifted child, Anakin Skywalker (Jake Lloyd), whom Qui-Gon believes is a future Jedi Knight.
AVAILABLE ON VIDEO NOW
"****.... A fine addition to the Star Wars phenomenon... Phantom Menace delivers all the enthralling adventure that we have come to expect from George Lucas"
John Citizen, Wagga Wagga, Australia
Reviews: There is 1 review for this movie